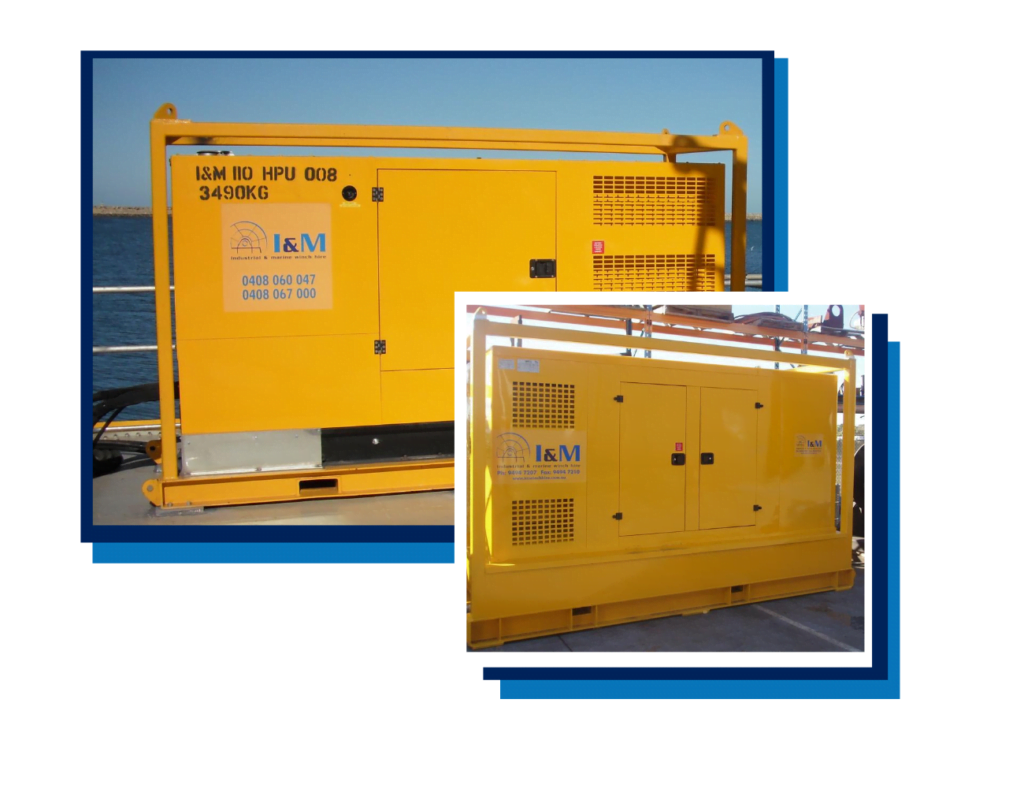 Equipment Hire
Hydraulic Power Packs
Our fully tested and certified diesel power packs are available for long or short term hire all across Australia. We offer a complete range of power outputs from 15kW through to 230kW for all the power you are ever likely to need. Combined with our range of winches, these versatile diesel power packs are able to tackle the toughest winching challenges.
Diesel power packs
All of our units are fully certified to full HSE standards for mining, marine and other industrial uses. We offer electric and diesel driven configurations of power packs from 15kW of power through to a massive 230kW diesel system. 
Equipment Hire
Our Hydraulic Power Packs For Hire
Hydraulic Power Packs
100 - 200kW
Why Choose I and M Solutions
I and M's service extends throughout Australasia and into Asia, and we routinely install and service marine deck machinery offshore. With highly qualified designers and engineers in our team, as well as state-of-the-art marine fabrication resources, we take pride in knowing that we can rise to the challenges of the most exacting specifications.
Frequently Asked Questions
Main Features of Our Hydraulic Power Packs
Durability
 Simple operation, compact and rugged design to guarantee great mobility and convenience. 
A set of regulators, filters, and lubricants are fastened to the air winch to offer clean and stable air power.
Safety
The ingenious design of our winches makes them explosion-proof for nature.
Heavy-duty fully enclosed disc brake and multiple brakes allow for smooth operation.
Comes with an auto-disc brake, manual drum lever brake, cylinder brake, air-operated emergency stop button, and cylinder brake.
Tailor-made for extreme conditions, for example, cold, dusty, explosive, damp conditions. 
Performance
Our winches have a power-pack piston air motor that guarantees superior reliability and strong starting torque in unforgiving environments.
They also have variable control speed that provides excellent spotting capability.
Up to 10 Tons load capacities.
Why Choose Us?
We are the most trusted winch manufacturer in Australia, and we produce a wide range of winch products, including but not limited to both small and large capacity, light-duty and heavy-duty winch. 


We have over 13 years of experience manufacturing and supplying winches of the highest quality to happy customers in Australia. 


We pride ourselves on quality, and we are fully involved in every aspect of our winches, such as manufacturing, delivery, equipment design, and servicing. 


Our winches are constructed of premium materials and are guaranteed to deliver long-lasting, reliable performance at a reasonable cost. 
That's not all, our air winches can be fully customized to suit your specific application. Our support team of dedicated experts is focused exclusively on delivering high capacity air winches. 
You are very welcome to talk to us about your specific needs for any on and offshore applications, just call or send us a message to discuss your lifting needs. Contact us today to get your custom solution.
Equipment Hire Categories
Have Questions? Contact Us Today!
Get in touch with
us today